When:
November 16, 2017 @ 7:30 AM – 4:30 PM
2017-11-16T07:30:00-07:00
2017-11-16T16:30:00-07:00
Where:
Best Western Plus Port O'Call Hotel
1935 McKnight Blvd NE
Calgary, AB T2E 3S6
Canada

"Radon gas as a source of preventable cancer in Canadian Workplaces: what you need to know to protect everyone you know", with Dr. Aaron Goodarzi, B.Sc., Ph. D.
About presenter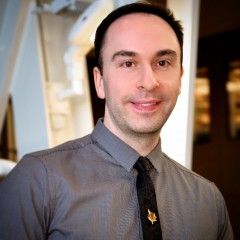 Dr. Goodarzi is the Canada Research Chair for Genome Damage and Instability Disease and is both the Education Lead and Microscopy Lead for the University of Calgary's Arnie Charbonneau Cancer Institute. He obtained his PhD from University of Calgary in 2005 and trained as a post doctoral scholar at the Genome Damage and Stability Centre at the University of Sussex (UK) until 2010. In 2011, he opened his own laboratory at the University of Calgary's Cumming School of Medicine. In 2015, he was named one of Calgary's Top 40 Under 40 for achievements in science and education and, in 2016, was named a "Peak Scholar" by University of Calgary President Elizabeth Cannon for his efforts in knowledge engagement in the area of the health impact of radon gas inhalation.
---
"Laser Safety Essentials" with LIZ KRIVONOSOV, BASc (Chem Eng), DIH, PEng, CIH, ROH
About presenter
Liz Krivonosov is the founder and President of KRMC Inc., a multidisciplinary firm based in the Ottawa area with operations in Toronto, Montreal and Vancouver.  Her expertise is in the risk management of hazardous materials and processes resulting from the use of biohazards, chemicals, radiation devices and substances, including lasers.  She is an internationally recognized speaker on laser safety and has been invited to speak as session keynote at the International Laser Safety Conference. She is currently a guest lecturer at the University of Toronto, Masters Program in Public Health (Occupational Hygiene) on lasers and ionizing radiation.